Playing or listening to music can create a feeling of well being, which affects the vascular system.
-- If you didn't catch the white coat and the stethoscope, you might take Dr. Mike Miller for a middle-aged rocker, roaming the halls of the University of Maryland Medical Center in Baltimore.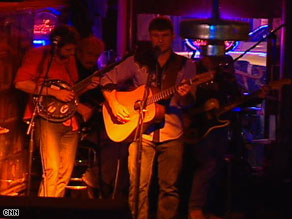 For years, Miller, a research cardiologist, has been studying the effects of happiness -- or things that make people happy -- on our hearts. He began his research with laughter, and found watching funny movies and laughing at them could actually open up blood vessels, allowing blood to circulate more freely.
Miller thought, if laughter can do that, why not music? So, he tested the effects of music on the cardiovascular system. "Turns out music may be one of the best de-stressors -- either by playing or even listening to music," said Miller. ... more